A Message from Jefferson County Clerk Bobbie Holsclaw
I am so pleased with how efficiently our recent General Election was conducted. I take great pride in ensuring every Jefferson County voter is heard at the ballot box.
I want to thank the voters who came out and took advantage of the changes to Kentucky's election laws providing expanded access for voters in all 673 precincts to cast their ballots, including six days of no-excuse, in-person absentee (early) voting at seven area voting centers.
I could not be prouder of the volunteer election workers from throughout Jefferson County who took part in the bipartisan effort to help carry out another free, fair, and secure election at all 215 voting locations. I also want to thank the Jefferson County Clerk's Office team members who coordinated and worked to back every aspect of this year's General Election. Your efforts give the seal of approval that democracy prevails.
As we anticipate and work toward the 2023 Primary Election on May 16, I will continue keeping you updated with the most accurate election information, and I look forward to working with the community and with Frankfort to ensure another free, fair, and secure voting process.
Bobbie Holsclaw
Jefferson County Clerk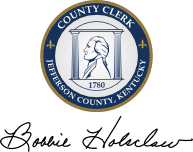 Notice to voters with disabilities: Questions or concerns about accessibility? Contact Richard Vowels, Jefferson County Board of Elections ADA Coordinator. Send email to ADA@JeffersonCountyClerk.org or call 502.574.6100.